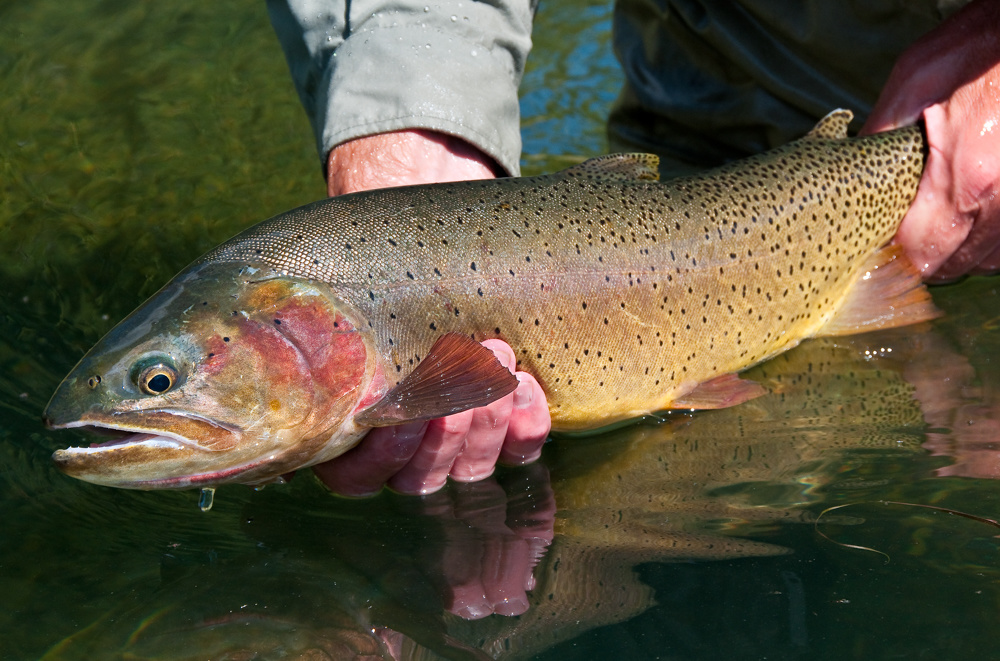 July 15, 2021
The
Madison below Quake Lake

is starting to see a bit of a tapering off of aquatic bugs, but there are still enough caddis, Epeorus and Yellow Sallies flying around to keep fish looking up. Don't hesitate to shop around spot to spot with a Hi-Vis Rusty Spinner in the morning or a Chili Stone in the afternoon. The terrestrial bite seems to be getting better by the day, with Thunder Thighs in size 14 and size 12 Donkey Kong Hoppers turning more heads after the wind starts to pick up. If nymphing is more your style tie on a #14 Crystal Dip trailed by a Montana Bullet or Spanish Bullet and hang on! You'll weed through some whitefish but there'll be enough trout eating that rig to make a heck of a day. As a happy accident, all three of those nymphs make excellent droppers on a "hopper dropper" setup as well. Water temperatures at the Kirby gauge are hitting the mid to upper 60s most days by 4pm, so try and be off early, grab a slice of pizza or a burger then head back out a bit before dark.
The
Gallatin River

is still producing some great hatches of PMDs, caddis and little yellow stones. The fish aren't as gullible as they were a few weeks ago, so careful wading and accurate casts will be your secret weapon here. We like a Chili Stone here as well since it does a great job of imitating a little stone or a hopper. Try dropping a size 16 Split Case PMD about a foot underneath.
The
Yellowstone River above the falls

opens today! Green Drakes, PMDs and caddis should all be on the menu for the next little while. You may even see a few Salmonflies and Golden Stones around though the peak of those hatches has past. Green Drake Sparkle Duns, Last Chance Cripple Green Drakes, size 16 PMD Sparkle Duns and size 16 tan X Caddis should all have a place in your box while heading this way. We wouldn't expect to find solitude on the Yellowstone but we would expect to have a great day of fishing in a truly special place!
Slough, Lamar and Soda Butte

continue to fish well. Water levels are low and reports are that the fish are spooky but not impossible. There have been good hatches of PMDs and caddis, so come prepared with size 16 Sparkle Dun PMDs and tan X Caddis in the same size. Midday when the hatches taper off try prospecting good looking lies with Longhorn Beetles or a Thunder Thigh Hopper in tan.

 

 
July 8, 2021
The
Madison below Quake Lake

is still going strong with caddis, however we are seeing fewer Drakes and PMDs. The Salmonflies are all but over, but with some patience and the ability to cover some water you may still find a few fish willing to come up for the big bug. In the morning if you find yourself with fish rising to PMDs, try a PFD Parachute in brown/yellow or the PMD flavor and hang on! Aaron's Razor May in the PMD variety has also been turning heads. For any and all of your caddis fishing, whether it's morning or evening, a tan Iris Caddis in size 17 or a Missing Link in size 16 will treat you well. We would also recommend having a few little size 20 black Iris Caddis or Razor Caddis for when the fish are being picky on the Glossosomas. Our temperatures have been mostly managing to stay in a healthy range for trout, but do keep an eye out for rising temps throughout the day, especially on days where we get little to no cloud cover.
The
Gallatin River

continues to fish well, particularly throughout the park stretch. PMDs, caddis and Yellow Sallies are all still emerging, along with a few Green Drakes. PMD and Green Drake Sparkle Duns and Razor Mayflies, Missing Link Caddis, Jake's Yellow Sallies and yellow Summer Stones will all be productive here over the next week. Hatches have been picking up just before noon most days, so there is no need to be on the river too early!
If you are up for a hike to somewhere a little off the beaten path, check out the
Yellowstone River in the Black Canyon

. Salmonflies are out in this stretch along with PMDs and caddis, making for some great fishing for 12-14" cutts. Try hiking in at Blacktail Deer Creek, Hellroaring Creek, or walking upstream from the boundary at Gardiner, and be sure to try a big #8 Salmonfly Chubby Chernobyl or orange Sunken Stone! Feel free to stop in or give us a call for more info on hiking into this area.
Hebgen Lake

has been starting to fire on all cylinders. Callibaetis have been seen far and wide, although not in huge numbers, but the fish have been looking for them on a pretty consistent basis. Try throwing a Callibaetis Deer Hair Spinner in size 16 or a Last Chance Cripple Callibaetis in size 16 as well. If you're seeing the larger variety of Callibaetis out there, don't hesitate to throw a bushier fly like a size 14 Adams Para-Wulff. We would definitely recommend still having a few Deer Hair Damsels in blue or tan for prospecting when not much else is going on with surface activity, and stripping a Living Damsel or Marabou Damsel Nymph along the weed beds can yield some excellent results as well.
The Northeast Corner is a great option and
Slough, Lamar and Soda Butte

are all still fishing well. The Lamar got a little off-color from a storm early in the week but looks to be coming back in shape, but keep an eye on the gauge or give a shout at the shop for current conditions. As far as bugs go, caddis and PMDs should cover a majority of the menu right now. A size 16 tan X Caddis or Missing Link will take care of the caddis and a PMD Razor May or Sparkle Dun in size 16 will cover the mayflies for you. There's a good chance to catch some Green Drakes popping over there so take a Green Drake Cripple or two with you as well. Also, don't be afraid to bust the foam bugs out, those fish seem to have a weakness for anything remotely resembling a hopper, beetle or ant. Some of our favorites are the Stubby Ant in size 12 or 14 and a pink Thunder Thighs Hopper in size 10 or 14.

 

 

 
July 1, 2021
Excellent is the only word you need to describe how the

Madison below Quake Lake

is fishing right now! With multiple hatches happening on the river, the fish are looking to the surface and we've been taking advantage of this. Depending on the time of day, you could find yourself throwing several different variations of flies. Caddis have been good in the morning hours, along with PMDs and Green Drakes. Around midday the fish have still been coming up for Salmonfly imitations, along with caddis. During the evening expect to see fish again up on the surface to caddis. Fishing from dawn til dusk is certainly not out of the question. The fly patterns haven't changed much since last week,
with Sunken Stones #6-8, Golden Sunken Stones #8-12, PMD Sparkle Duns #16, Iris Caddis Tan #17, Hot Spot Para-Wulff PMDs #16, and X Caddis Tan #16 all being great choices.
The
Gallatin River
as we mentioned above has been seeing Salmonflies up into the Park stretches and there are lots of them. If you're driving up this way make sure your vehicle has plenty of wiper fluid! Caddis and PMDs have also been coming off in good numbers. If you're fishing the Park sections you'll have no need to get there too early as the water has been running quite cool in the morning hours. Have with you Missing Link Caddis #16, Missing Link Green Drake #12, Sunken Stones #6-8, PFD PMDs #16, Rogue Golden Stone #8 and Jake's Yellow Sally #16.
If you're looking for a little solitude and some great fishing for westslope cutts take the two-mile walk into
Cascade Lake
. A couple anglers took our advice on this and had a great time catching these 10-12 inch fish all day long. These fish aren't picky right now and you can fish dries, nymphs or strip small leeches and streamers.
The
Gardner River
has been very good and you can fish this at the top end near Sheepeater Cliffs for brookies or down below Mammoth where you'll find several different species including brookies, rainbows, browns, cutthroat, whitefish and cuttbows. Have #8 Sunken Stones, Missing Link Caddis #16, PFD Parachute PMDs #16, Jake's Yellow Sally #16 and Stimulators #14-16. Just in case add in a Spanish Bullet #16 and a Micro Mayfly #14-16 for a dropper.
Hebgen Lake
has been great as long as the wind stays down long enough for the bugs to get going. The
Callibaetis
activity has been pretty good on both the Madison and Grayling Arms. Have with you Callibaetis Sparkle Duns #16, Callibaetis Foam Spinners #16 and Cripple Callibaetis #16 for dries. For nymphs have Driskill's Midge #12, Ice Cream Cones #12, Traffic Light Diawl Bach #14 and red Copper Johns #16. Keep a close eye out for damsels!
The Northeast Corner is a great option and
Slough, Lamar and Soda Butte
have all been fishing. As with the Gallatin these rivers are still running a bit cool so don't expect the fishing to be great until at least mid to late morning. Missing Link Caddis #16, PMD Sparkle Duns #16, Rogue Salmonfly #6 and Golden Stone #10 and Grey Drake Sparkle Duns and Spinners #12.
June 24, 2021
If you were waiting for the dry fly fishing to start, wait no longer, the rivers are now all in prime condition and the hatches are out in full force! Starting with the
Madison below Quake Lake

we currently have both Salmonflies and Golden Stones up past Ruby Creek, and there have been some fish on them. We've also seen plenty of caddis and PMDs on the river. This is the time of year we dream about throughout the winter and whether you're fishing from a drift boat or are wading the Madison, you can expect that you'll get some good dry fly fishing in during the day. The evening fishing has also started up and we've seen some great emergences of caddis and have had some great spinner falls also. A few flies you'll not want to be without include Sunken Stones #6-8, Golden Sunken Stones #8-12, PMD Sparkle Duns #16, Iris Caddis Tan #17, Hot Spot Para-Wulff PMDs #16, and X Caddis Tan #16.
The
Gallatin River

is also alive with several different hatches and fishing doesn't get much better! Salmonflies, Golden Stones, caddis, PMDs, Yellow Sallies and even a few Green Drakes have all begun hatching here. The big bugs have worked their way up past Big Sky and we've even seen a few within the park stretches. If you're in the park stretches keep a close eye out for Green Drakes as it only takes a few of these awesome bugs to get the fish looking up hard. While the Gallatin isn't really known to be a BIG FISH river, this is the time of year when you have the best chance to see a few of these guys! Fly selection is almost identical to the Madison, with Sunken Stones #6-8, Golden Sunken Stones #8-12, PMD Sparkle Duns #16, Iris Caddis Tan #17, Hot Spot Para-Wulff PMDs #16, X Caddis Tan #16 and Green Drake Sparkle Duns and Green Drake Spent Sparkle Drakes #12.
The wind finally calmed down for a few days, and with this
Hebgen Lake

was on fire. A few of our guides found themselves into an abundance of fish over this past weekend. While there are a few early Callibaetis out, mainly during the mid-morning hours, the fish have been keyed in on Chironomids. Driskill's Midges #14, Traffic Light Diawl Bach #14, Ice Cream Cones #12 and Split Case PMDs #16 produced the best results.
It's seems a little early to be putting this in the fishing report, but keep an eye on the
Northeast Corner of the park

. With lower water conditions this year and no precipitation for the last few weeks, we expect that this is going to get going a little earlier than usual. While this is still just a bit of a gamble, making the drive over could be well worth the risk. Grey Drakes, Stoneflies and PMDs aren't out of the question and you could perhaps see all three coming off this coming week. Lower Slough Creek is probably the best bet but don't count out the Lamar and Soda Butte, too.

 

 
June 17, 2021
The
Firehole and Madison Rivers inside Yellowstone

have experience some high water temperatures lately, and it looks like the fishing on these two bodies of water will be put on hold until most likely September, when colder nights will help cool things down.
The
Gallatin

is coming into great shape and you'll want to watch this one closely. As the water levels drop and temperatures rise, this river is bound to "POP" with caddis, PMDs and stoneflies. For right now, don't be in a huge rush to get on the water. If you arrive by 11:00am or even a little later you should be good. The water above the Taylors Fork is clear and in the afternoon hours consider fishing a large attractor like a Royal Wulff #12, Ausable Cripple #12 or a Micro Chubby with a #12-14 Prince, #12 Rubberlegs or #14-16 Spanish Bullet as a dropper.
Hebgen Lake

has been a bit tough this past week due to the high winds, which have kicked us off early in the day. Looks like the wind may calm down this coming weekend and when it does, look to find a few early season Callibaetis along with midges on the surface. Chironomid fishing has been the most productive way to fish as of late, and Driskill's Midges #12, Zebra Midges #16-18 and 3D red Diawl Bachs #12 have been great for this.
The
Madison below Quake Lake

is currently flowing at 1060 cfs at the Old Kirby Place and has been fishing extremely well. The dry fly bite is just getting started and our guides have been doing well both on and below the surface. There have been clouds of caddis along the river, and we've also been seeing some PMDs and yes, even a few Salmonflies on the lower portion of the river. Yep, things are progressing a little early this year, and with water levels approximately 500 cfs lower than the long-term average, expect this trend to continue until we see some rain in the forecast. If you're nymphing have #8-10 Rubberlegs, #14-16 Spanish Bullets, #14-16 Guide Serendipities, P.T. Hot Spot Jigs #14-16, $3 Dips #16 and Plan C Caddis #16. For dry flies make sure you have #14-16 Missing Links, PMD Sparkle Duns #16, Iris Caddis Tan #17, and tan X Caddis #16. It's also a good idea to have a few attractor patterns such as Parachute Adams #14-16, Royal PMX #12-14 and Royal Trudes #14-16.
As we mentioned last week the
Gardner River

is also a great option and you can expect to see caddis, PMDs, and in the days to come most likely Salmonflies!
For our sleeper bet of the week, take a look at
Cascade Lake

. An easy two mile walk will get you into some nice little Yellowstone cutthroats and grayling. So, if you're looking for something a bit different give this a shot!

 

 
June 10, 2021
Firehole, Madison and Gibbon Rivers:

The Firehole has certainly been the best of the three. Consistent White Miller hatches have kept the fish looking up and there have been just enough PMDs to keep things interesting. White Miller Razor Caddis, PMD Sparkle Duns, mint Hot Spot Soft Hackles and Micro Beeleys have been excellent producers. We do recommend heading in early as traffic has been tough after 8:00am. A few size 16 rusty spinners are also a good fly to have for the early mornings. Please keep an eye on the water temperature here in the afternoon and evening, as things have been getting a bit warm on the hotter days.
Madison below Quake Lake:

The water is quite low right now as they are trying to fill Hebgen Lake. Clarity is a little cloudy above the West Fork and dirtier below through the float stretch, but it is plenty clear enough for larger nymphs and streamers. We are just starting to see a few caddis and the fish are beginning to look up a bit. A tan #16 X Caddis or Iris Caddis will do the trick. Nymphs like our Shop Vac or $3 Dips will do the job subsurface.
Gardner River:

This is another river that should start to fish soon. Be on the lookout for Salmonflies any day now between Mammoth and Gardiner. Try a #10 Chubby Chernobyl or Sunken Stone, and don't be afraid to drop a #6 black Rubberlegs off the back.
Hebgen Lake:

There are still some midges emerging around the North Shore, but the wind has been so bad lately that it's been tough to find water calm enough to allow the fish to rise. Fishing Chironomids under an indicator is still producing some fish, and if you find yourself out there on a calm day, keep an eye out for a few early Callibaetis mayflies in the Madison and Grayling Arms.