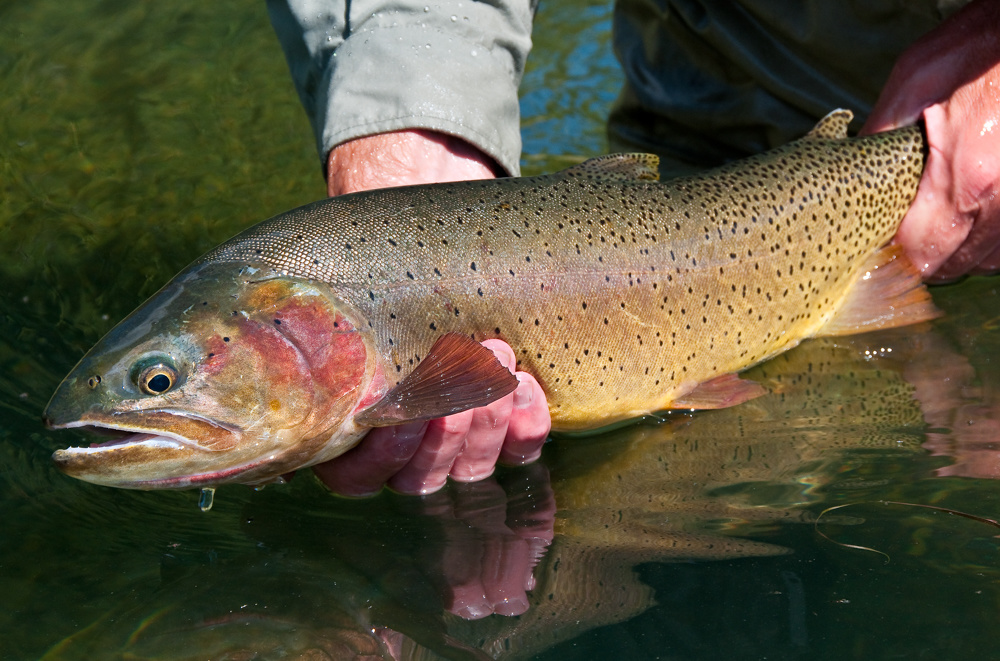 May 16th, 2019
Ice is off on

Hebgen Lake

, and the Chironomid fishing has been exceptional the past few days with the best fishing taking place between 1 and 3 pm. During that window of time, it has been hard to keep fish from eating a Driscoll Midge when suspended 4-5 feet below an indicator. The fish have been active to eat other size 14 Chironomid patterns as well, but the Driscoll has undoubtedly been the hot ticket for us. If you are out on the lake and you aren't finding productive fishing, don't hesitate to move to a different spot. There are certain areas where the midges tend to be more prolific than others, and I have obtained notable success when stumbling across those spots. A practical approach to finding such a spot would be to simply mobilize yourself and seek an area of the lake that appears to have more midges on the surface or find an area where the waterfowl have congregated. This time of year, Black Necked Grebes feed with vigor on the insect life that occupies the Lakes surface and I frequently find myself amongst them when I am really getting into fish. The dry fly fishing has however left much to be desired, but it should begin to pick up here in the upcoming weeks. Fly Box: Driscoll Midge, Pheasant Tail Chironomid, Ice Cream Cone #12-14, Tan Super Bugger, and Griffiths Gnat #16.
The Madison River below Quake is currently running with its annual green glacial tinge – signifying the beginning of runoff season. Beaver and Cabin are blown out, and Quake Lake is near its runoff compensation capacity. The Madison will begin to express this fact soon enough, although most weather forecasts are calling for snow Friday through Wednesday. Depending on whether this snow melts or sticks upon its arrival, runoff will either be exacerbated or delayed – only time will tell. Fishing with nymphs has continued providing great success and several fishermen have come into the shop reporting banner days dredging with $3 Dollar Dips and Rubberlegs. The dry fly fishing is sparse, and it will likely remain so until late June. Although this is our current reality, I believe the Madison is shaping up to provide excellent dry fly fishing this year considering this is the second year in a row with water being released from the bottom of the reservoir – which proved to benefit the dry fly fishing we experienced last year. This combined with other quality factors in place like snowpack gives me the impression that our opportunities as anglers will be very favorable in the months to come. Fly Box: Rubberlegs #6-10, Brown and Red 3$ dips #14-16, Prince Nymphs #12-14, Shop Vac #16, Pink San Juan, and Streamers (Prospectors, Sculpzilla's, and Belly Scratcher Minnows).
The Madison between the Lakes is dirty because Cabin Creek is currently spitting mud into the river. If you are lucky enough to stake out a spot above Cabin Creek you will secure the clearest water in the entire river. Fish big Stonefly Nymphs and Caddis Pupae imitations if you are one of these fortunate persons. Continue exercising caution while wading in between the Lakes this time of year, flows out of the dam are subject to change and they are more likely to increase during runoff season.
With the nice weather that we received last weekend, the Gallatin River is now in full-blown runoff and we won't be fishing here until late June/early July.
The

Henry's Fork

below Mesa Falls has produced notable dry fly-fishing opportunities this prior week with Caddis and March Browns. I suspect a few Blue Winged Olives will come off this weekend with the projected weather forecast. Nymphing has also been effective with Rubberlegs, and serendipity patterns. Fly Box: March Brown Sparkle Dun, Olive X- Caddis #16, Razor Mayfly Baetis #18, Tommy's Caddis Pupae, Guide Serendipity #16, Olive Miro Mayfly #18, and Brown Rubberlegs #8-#10.
May 9th, 2019
The Madison River below Quake Lake is sitting comfortably at around 1500 CFS, however, this will not be the case for much longer; the weather forecast is calling for highs in the 60-degree range this weekend which will undoubtedly pop the runoff cork. With that said, the water in the wade stretch will remain at its current clarity for a couple of days until Cabin and Beaver creek begin their annual mud spitting festival. One of the many great attributes of Quake lake is it will naturally absorb some of the initial mud spitting typically performed by Cabin and Beaver. As one would expect, the compensatory mitigation is short-lived, and the runoff water eventually diffuses its way through the lake. Nonetheless, I think it is a safe bet to assume the wade stretch above the West Fork will maintain its current level of clarity for a day or two longer. Although Baetis Duns have yet to show themselves in prolific quantities, I would still bring along a few Sparkle Duns just in case. I know of a couple committed dry fly anglers that have found a few fish looking up while walking up and down the banks blind casting. A few days ago, Bucky found a few trout willing to eat a #14 Ausable Wulff that he was using primarily as an indicator fly. The nymphing has consistently produced for us this last week with big Stonefly patterns and various Dip patterns being the preferred flies. If you are looking for some streamer action, this is certainly a good time to be fishing the Madison — black, olive, and natural colors seem to be the most effective right now, but as the water clarity begins to turn, white and other bright colors become more fashionably suited. Fly Box: Brown Rubberlegs #8, Pink San Juan, Brown, and Red $3 Dips #14-16, Crystal Dips #14-16, Red and Black Zebra Midge #18-20, Red Copper Johns and Prince Nymphs #14-16, Baetis Sparkle dun #18, and streamers (Prospectors, Super Buggers, and Zonkers).
The Madison between the Lakes has received a lot of love from fisherman this last week; rightly so, the nymphing in this stretch has been exceptional. With that said, if your fishing plans include fishing this stretch it wouldn't hurt to arrive a little early and post out a spot — not too early though considering the fishing has been at it's best in the afternoon. Currently, the bug activity we are seeing between the lakes parallels the Madison below Quake. If you do decide to fish here use caution, there is a realistic chance that the water coming out of the reservoir will be bumped any day now and it could conceivably happen while you are fishing.
The long-awaited ice off on Hebgen lake is upon us, and we have started turning our heads in that specific direction. Chironomid fishing Hebgen in the spring can be quite special. We are still a week or two out from prime-time Chironomid fishing, but that doesn't mean there aren't fish looking for them already. Usually, we like to fish Chironomids a foot off the bottom of the lake, but we have had more success fishing them 3 to four feet below the surface in the last few days. If you are headed this way, I would strongly recommend bringing a crayfish-like pattern in your fishing arsenal — I like to fish a tan Super Bugger for this application. There are a ton of crayfish around this time of year and from my experience, the bigger fish really key in on them immediately following ice off. Fly Box: Driscoll Midge, Tan Supper Bugger, Ice Cream Cones #12 & #14, and Zebra Midges #16.
The Gallatin River is fishing well with nymphs being the name of the game. If you are looking for dry fly fishing here, you have missed your window of opportunity, unfortunately. The Gallatin rose more than 300 CFS in the past two days at Gallatin Gateway and the Taylors Fork is surely blown. With the current weather forecast in mind, it is likely that it will be a month and a half until the Gallatin is suitable for dry fly fishing again. Fly Box: Rubberlegs #8-10, San Juan, Prince Nymphs #14-16, Copper Johns #14-16, and Red/Brown/Crystal Dips #14-16.
The Ruby River has risen from 150 CFS to 285 CFS at Twin Bridges, Montana over the past week and the water has a green tinge to it. Wading below the reservoir has proven to be challenging when the river starts hanging around 300 CFS. If you happen to check the USGS gauges below the reservoir near Alder, you will obtain an unsound reading seeing that a dedicated portion of that water is diverted into irrigation ditches before it reaches the main fishing stretches. Despite the fluctuation in water levels, nymph fishing has remained productive with Midge and Baetis nymphs. However, the dry fly fishing has really tapered off. Fly Box: Baetis nymphs #16-18 (Pheasant tails, Micro Mayflies, Sawyers, and Shot Glass Baetis), Shop Vacs #16-18, various midge patterns (Half Pints, Zebra Midges, etc..), and Streamers (Prospectors and Sculpzillas).
May 2nd, 2019
The Madison below Quake has typically seen its best fishing in the afternoon hours so there is little need to rush to the river. The water level coming out of the dam is sitting at 1790 cfs which is relatively high for this time of year. With this high water, fish will be tucked up close to the banks where the current is not as strong. Dry fly fishing has been sparse, but the nymph fishing has been solid, and the fish have seemed to possess the strongest affinity for Rubber Legs and 3$ Dips. If you are a die-hard streamer fisherman than look no further, with the high water we expect the streamer fishing to develop any day now. Beaver and Cabin Creek were green, however, the cold front that hit us the past couple of days has put a stop to that. Nonetheless, the river at Raynolds Bridge had a slight tinge to it as of yesterday morning. Varney Bridge is undergoing construction right now. If your fishing plans include the Varney access, Text "Varney" to 22828 for construction alerts and updates. Fly Box: Brown Rubber Legs #8, Brown and Red 3$ Dips #14-16, Crystal Dips #14-16, Lightning Bugs and Prince Nymphs #14-16, and Streamers (Prospectors, Super Buggers, and Dungeons).
The Madison between the Lakes is clear, and the nymph fishing has been really good with the same kinds of bugs we are using in the Madison below Quake. Exercise caution when wading between the lakes with high water flows – it is easy to get yourself in trouble here in a hurry.
The Gallatin River was in runoff stages four days ago, but recent cold weather has corked most of that and the flows have dropped from 1,250 cfs to 800 cfs at Gallatin Gateway. As of today, the Taylors Fork is clear and thus the visibility of the main river is ideal. There has been excellent nymph fishing the last few days with Stonefly and Baetis nymphs – principally in the afternoon when the water has had a chance to warm up. We haven't witnessed a ton of dry fly action yet, but if runoff can stay bridled expect solid Baetis emergences in the afternoon. Fly Box: Large stonefly patterns #6-10 (Rubber Leggs, Euro Stones, and Prince Nymphs), Baetis nymphs' #16-18 (Pheasant Tails, Micro Mayflies, and Two-Bit Hookers), black and red Zebra midge size #20-22, San Juan Worms, and prepare yourself with Baetis Sparkle Duns and Baetis Razor Mayflies #18-20.
The Ruby is currently experiencing Baetis emergences in the afternoon and nymph fishing has been productive throughout the day with Shop Vacs and Baetis nymphs. If you are looking anxiously for dry fly fishing, you can't go wrong with the Ruby this time of year. Don't hesitate to tie on some midge dries as well; personally, I like the Scotty's Midge because it is easy to see and it's nothing short of deadly. They did bump the flows out of the reservoir from 50 cfs to 100 cfs, but that shouldn't have too much of an effect on the fishing in the next couple of days considering they have maintained the flows out of the reservoir well below the mean average up to this point. Fly Box: Baetis duns #18-20 (Sparkle Duns and Razor Mayflies), Baetis Foam Emerger #18-20, Baetis nymphs #16-18 (Pheasant tails, Micro Mayflies, and Split Case Baetis), Shop Vacs #16-18, and various midge patterns (Half Pint's, Zerba midges, etc..)
April 25th, 2019
Water levels have risen significantly on the Madison below Quake with flows approaching 1900cfs, but there is still plenty of fishing to be had. Dry fly fishing opportunities will be limited, and you'll have to search out the calmest water around to hopefully find a few fish willing to come up. If you do find a few risers, you'll want to have #18 Baetis Sparkle Duns and #20 Scotty's Midges, along with a #12 olive Summer Stone in case you happen to run into a few Skwalas. Nymph fishing will certainly be the best bet right now, and we'd recommend a #8 Rubberlegs, #14-16 brown and crystal $3 Dips, as well as Lightning Bugs and Prince Nymphs in size 16. Streamer fishing can also be very productive in the high water, so don't be afraid to strip an olive/white Prospector or a black Super Bugger along the banks.
The Gallatin has turned significantly off-color over the last few days with the warmer weather, particularly from Taylor Fork downstream. If you do fish here, big nymphs will be the name of the game. Rubberlegs, Euro Stones, large Princes and Copper Johns would all be fine choices, and be prepared with plenty of split shot to get down in the heavier flows.
The Ruby has continued to fish well this past week. Baetis have emerged most afternoons, so be sure to have a few #18 Baetis Sparkle Duns and Black Wing Cripples with you. Nymphs have also been productive, with #16-18 Micro Mayflies, #18 Half Pints and #16-18 Shop Vacs being some of our top patterns. Water levels are currently good here, but be sure to check the USGS gauges before making the trip, as any increase in flow here can turn the fishing off in a hurry.
Hebgen Lake is still frozen for the time being. While it is hard to predict exactly when the ice might finally leave the main lake, we'll keep you posted as it starts to break up and we get closer to full ice-off.
April 18th, 2019
The fishing on Madison lately has been nothing short of fantastic! Great dry fly and nymph fishing can be found on the Madison and it certainly isn't limited to just one or two spots. The water from Quake Lake down to Lyons bridge is probably your best bet for dry fly fishing and you'll want to carry Griffith's Gnats, Zelon Midges, and Scotty's Midges, and you'll want to make sure you have Baetis Sparkle Duns in your box now as well. If you're fishing below the surface, Zebra Midges (both red and black), Shot Glass Baetis, red $3 Dips, red Rainbow Warriors and Rubberlegs and will get the job done.
The Gallatin has been a perfect green color as of late but I would suspect that with the warmer temperatures coming in the next few days that this will turn a little more off color. Nymph and streamer fishing will probably be your best bet with Pat's Rubberlegs in smaller sizes, Pheasant Tails, Prince Nymphs, Lighting Bugs and Euro Stones. For streamers go with smaller sizes in black or olive.  If the water stays clear you will be sure to find fish feeding on the surface to both Baetis and midges, too.
We have had some great reports from the Ruby just in the last few days. The Baetis have shown up in full force and dry fly action has made this little river well worth the trip. Baetis Sparkle Duns in size 18-20 along with Zelon Midges in size 20 should have you covered here. For nymphing, small 18-20 Pheasant Tails, Zebra Midges, and Juju Baetis will keep you occupied until the hatch starts.
The Madison between the lakes has fished well. Rainbows are spawning here currently, so be sure to watch out for the redds in this area and try to walk around these areas or avoid them altogether. Red $3 Dips, red Rainbow Warriors, Juju Baetis, and red and black Zebra Midges are sure to work for you here.